Our School Philosophy
The philosophy of The Children's House Primary is to help children flourish during each stage of development. Montessori education follows children through the Four Planes (phases) of Development.
Dr Maria Montessori identified four key stages of an individual's social, emotional and intellectual development from birth to 24 years of age. Throughout each stage each individual has different traits, needs, sensitivities, strengths and potentials for independent learning.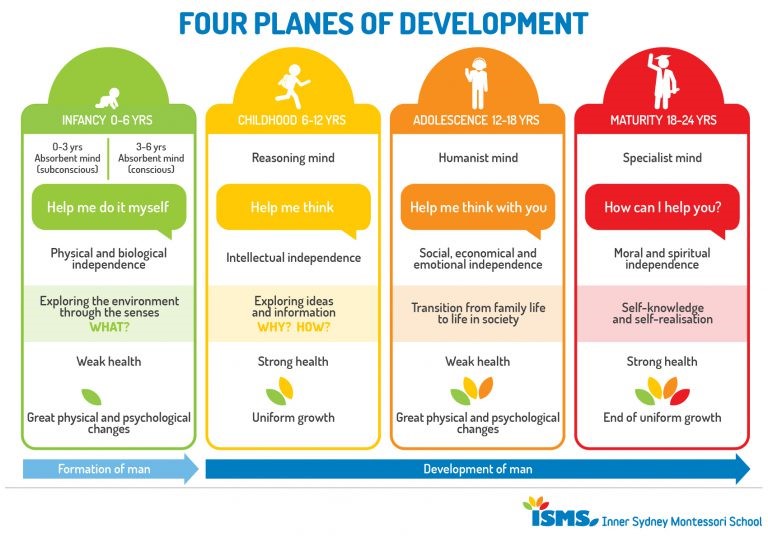 We aim to support the creation of individuals who are team workers, individual thinkers, problem solvers and lovers of learning. They will also be caring of others, curious and adaptable individuals.
They will be well prepared for their future education both intellectually, emotionally and spiritually.
[read_more id="1" more="Read more" less="Read less"]
The Montessori approach recognises certain developmental stages or planes of development in the child's life. Maria Montessori observed that these went approximately in three year cycles and our approach to schooling follows these cycles.
During the first three years of life the child is learning life skills. Montessori 3-6 environments provide opportunities for children of this age to explore and grow.
Our Montessori Pre-primary programme is set over a three-year period, with children usually commencing around their third birthday and remaining in this cycle for nine terms until they are about six. The third year coincides with Senior Infants at other schools. It is very important that the children stay for this third year as it consolidates their knowledge and gives them a strong sense of responsibility. During their 3rd year they are encouraged to stay until 3pm and can avail of our Extended Day programme for children from 4-5 years on.
The three year cycle continues into Primary, where the groupings are generally ages 6-9 and 9-12. We have a flexible intake into Primary from the Pre-primary, according to the child's readiness. This means that children may move up to Primary at any time throughout the year. Again, it is important to commit to the three year cycle so that the child gets the most out of each developmental stage.
At each stage the child has the opportunity of being in the youngest as well as the oldest group in the class. This is a great support to the building of individual confidence.
[/read_more]